News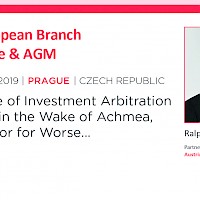 CIArb European Branch Conference & AGM
16.04.2019
The CIArb European Branch Conference & AGM "Anti-Globalization and International Arbitration: Winds of Change and Protest in Europe?" will take place on the 26th and 27th April 2019.
Mag. Ralph Kilches is one of 3 speakers, who presents the topic "The Future of Investment Arbitration in Europe in the Wake of Achmea, for Better or for Worse..." (11:45-1:00 pm).
Download
Read more
Limitation period does not begin until knowledge of the circumstances
26.02.2019
The period of limitation begins in the case of medical malpractice only with knowledge that such had occured. 
Read more
The co-tenant may not demand payment for the abandonment of his rental rights
26.02.2019
According to the Tenancy Law, it is considered as an inadmissible one-off payment if the new tenant has to render a service to the previous tenant or the landlord without equivalent consideration. 
Read more
Damages resulting from manipulated software in diesel cars
26.02.2019
The damage in case of purchasing a car with manipulated software results either from the fact that the deceived party has concluded an unfavourable contract as a result of fraud or in therein that the buyer has not entered into another advantageous contract. 
Read more
Sub-letting on Internet platform is ground for termination
26.02.2019
The main tenants of an apartment in the center of Vienna offered its rental on a daily, weekly or monthly basis on an online booking platform directed to international users.
Read more
Selective distribution system for luxury products allowed
26.02.2019
The agreement between the distributor of branded (cosmetic) products and retailers that the "luxury character of the products must be preserved" when the goods are offered does not violate European competition law. 
Read more
Offering SIM cards with pre-installed, active services is unlawful without explanation
26.02.2019
If a telecommunications provider markets SIM cards on which certain chargeable services, such as Internet access or mailbox services are pre-installed and already activated without adequately informing consumers about the existence of the services and the costs incurred, this constitutes a violation of competition law. 
Read more
Dismissal for extended lunch break
26.02.2019
A worker may be dismissed summarily if he "has left work without authorisation". The absence must be substantial and without a legitimate reason.
Read more
The legal consequences of the digital estate
26.02.2019
The German Federal Supreme Court ruled that heirs fully enter into all legal relationships of the testator due to the general applicable universal succession. This applies equally to all digital contracts with operators. 
Read more